After missing my flight over the holidays, I'm in Florida now spending time with my family. I'm happy to be here — but man, these people are weird. And as I've gotten older — especially in the last few years — I've started to see my parents and the elders in my family differently.
Specifically: I've started to understand that they are fallible and capable of mistakes. Even big mistakes.
I've also started to understand that even now, being much older than me, sometimes they are still uncertain of the correct choice to make, or how to handle difficult, unfamiliar, painful situations.
For instance, right now my parents are going through this weird quasi-divorce (they were never married…just together on and off for 20 years, and even engaged at one point). There's lots of fighting, name-calling, etc. All the typical stuff you'd expect in this type of situation. Who knows how it will all turn out. Objectively speaking, though, there are some really interesting things at play here. This post isn't going to be some depression rant (maybe I'll make one of those later if the drop shipping business I'm developing this year fails.
But as I've stood a captive audience to family drama, I think a few things have become clear to me:
Thing #1: Sanity is just as valuable, if not MORE valuable, than love
Since I didn't really grow up with my parents together, I don't have an emotional attachment to their relationship as a couple. I just want them both to be happy — which means even if it's not with each other. Objectively speaking, if they can find someone else to make them happy, I'm totally ok with that. I prefer it, actually. I find it odd that I don't have more emotion attached to the outcome of their relationship — but I just don't. Interesting.
My takeaway here:
I don't like feeling all crazy and jealous, do you? And I have a carrying capacity for how much emotion intensity I can feel at once. I went through an emotionally turbulent time for a short period when Sara and I were trying this crazy open relationship thing which DID NOT WORK FOR EITHER OF US. I almost busted this guy's car window. It was brutal.
(That's an entirely different post, though….)
Anyway, what I've found is that I like to keep my mental/emotional space clean and focused. Love is important, don't get me wrong. But so is sanity. OMG Mental health feels SO GOOD. We should value mental health/emotional stability just as much as we value love — if not more. And we should seek out people who bring us sanity, not constantly take it away. Y'all watch too many Nicholas Sparks movies.
ATTENTION WOMEN: I DO NOT WANT TO CHASE YOU IN THE RAIN.
(Side note: I actually did like The Notebook. It made me feel a weird little lump in my throat, but I pushed it down.)
Thing #2: Adults are mostly just big kids — and we often act like them
Just because we get older doesn't meant that we grow up. And sometimes, we just act silly, irrationally or straight-up childlike. This seems obvious when you say it out loud, but dig a little deeper. Usually when we see someone that we look up to or admire behave in a particular way during a stressful situation, don't we often assume (perhaps even subconsciously) that their behavior is the PROPER reaction because they're "the adult"? I know have in the past.
It takes some serious growth to say "I love my parents, but I wouldn't have handled XYZ situation that way."
My takeaway here:
It's hard, but try to be critical of the people you admire and observe them as objectively as possible. Now, when I say "critical" I do not mean disparaging, "holier-than-thou" or "know-it-all", etc. I simply mean try to make genuine assessments of the circumstances around you and really discern what's actually right from what just feels right at the time.
This is why I don't take any sides in family drama. I'm like Switzerland: I'm on everybody's and nobody's side. Just chocolate and watches from this guy. Now of course, if someone's physically threatened, etc, I'll have no choice but to intervene. But other than that — when I see an argument, I try really hard to understand that there are two sides — both of which are equally convinced that their point (and theirs alone) is the sole beacon of logic. Kind of like two opposing terrorist regimes. Both people are ready to die for what they believe in. Because I understand that both sides are emotionally invested in their story, it reminds me that our primary motivator as humans is almost NEVER logic — it's emotion. So I usually never pick a side.
Does this make me a scumbag?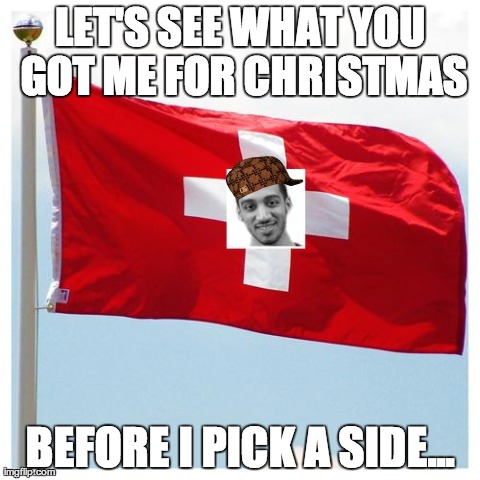 Thing #3: People usually make the decision they think is best, based on the information that they perceive to be relevant at the time.
Notice that I didn't say "based off the information that they have"? You can have all the information in the world to make a choice- but your decision is always based off the information that you deem RELEVANT.
My takeaway here:
There have been times in my life where I'd wished that I'd been taught differently, or raised differently. I had a great upbringing. A really great childhood. But of course there are some tweaks I would have made.
A simple example: For the most part, I don't think my family valued EXTREME levels of excellence as much as some other families when I was growing up. They made the decision to help me build confidence in my abilities without pushing too hard for specific achievement. This lead to a lot of warm-fuzzies, and I always felts loved and cared for. But it also left me looking for some additional tools to perform at a higher level later in life.
I used to be a little bit mad about this. Now I realize that this decision wasn't incorrect on their part. It was just the choice they made at the time — and it felt right to them.
Let me unpack that a little bit more before I get in trouble: I have many immigrant friends who were literally terrified to bring home anything less than an A+ to their parents. And even then — they might get asked, "97%? What happened  to the last 3%?" In school, I didn't envy them. I always thought their cultures were ridiculously, unnecessarily anal.
On the other hand, I could bring home an 85% and I'd get warm milk and a pat on the back.
Now, to be fair, I did well in school. My parents didn't have to worry about me failing. So well, in fact, that I earned my IB Diploma (anybody else in IB?), skipped almost 2 years of college and travelled around the world on scholarship. But those achievements were due to the fact that school was relatively easy for me, NOT because I was inspired to work hard.
Fast forward to now, and I've had to work RIDICULOUSLY hard on overcoming the psychological limitations that tell me "good enough" is acceptable (here's one extreme strategy I used to overcome this mental block) and I've had to completely overhaul the way I think about my life and my career in order to start running with people in the top 1% of their fields.
But you know what I've realize in all this — you can only put so much onus on your parents for the way you turn out. Once you start developing your own critical thinking skills and start making your own decisions, it becomes your responsibility to sink or swim. It's not fair to them or yourself if 20 years down the road you blame them because you're not where you want to be.
Outside of abuse, etc — most parents are doing what they think is right. MOST of their actions come out of love. So view it as such, appreciate it, and learn to pull yourself up to the next level.
*******
Welp, that's all I feel like writing.
Have you learned anything surprising about yourself or your family that you didn't expect as you've gotten older?
Let's talk about it in the comments. Share what you've learned!
*******
BTW, if you're not signed up for my newsletter, you're missing out on all my best strategies AKA the stuff that I don't post on the blog. Sign up with this form:
[box]
Liked these strategies? Sweet. I can send you some even BETTER stuff. Just join the tribe. (It's free).

[/box]